French Public catering services are using more and more organic and locally-sourced food in its schools.
For several years, the Dordogne area of France has been strongly in favor of the introduction of organic and locally-sourced products in its public catering services. At the start of the 2019 school year, the Belvès school in France was the first to be certified 100% organic. Since then, the approach has developed and amplified throughout the department and a second school in Montpon-Ménestérol also obtained the "Ecocert label" for its 100% organic canteen cuisine in October 2020.
Eating City is mentioned on page 5 of the recent Presse Release (in French) of the Dordogne Departmental Council as its Director, Maurizio Mariani will accompany renowned French Chef Olivier Roellinger during his visit to the Dordogne to attend the award ceremony on Friday October 16th.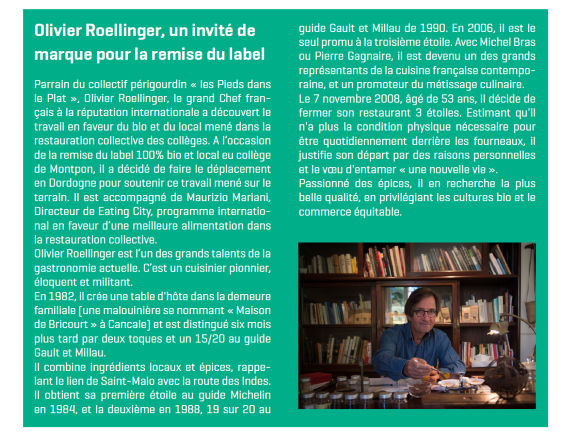 Extract of page 5 of the Dordogne Departmental Council Press release, translated into English for the EC website purposes by Corinne Stewart:
"As the patron of the "Pieds dans le plat" organization, Olivier Roellinger, the renowed French Chef with an international reputation, discovered the work undertaken in favor of organic and local products in the public catering of schools. For the presentation of the 100% organic and local label at Montpon school, he decided to make the trip in Dordogne to support this work carried out in the field. He was accompanied by Maurizio Mariani, Director of Eating City, an international program for better nutrition in public catering.
Olivier Roellinger is one of the great talents in current gastronomy. He is a pioneering cook, eloquent and militant. In 1982, he created a "table d'hôte" in his family home (a Malouinière called "Maison de Bricourt "in Cancale) which six months later was awarded 2 toques and a score of 15 out of 20 in the Gault Millau gourmet guide. It combines local ingredients and spices, reminiscent of Saint-Malo's link with the route to India. He obtained his first Michelin star in 1984, and the second in 1988, 19 out of 20 in the Gault and Millau guide in 1990. In 2006, he was the only Chef promoted to a third star.
With Michel Bras or Pierre Gagnaire, he became one of the great representatives of contemporary French cuisine, and a promoter of culinary mixing. On November 7, 2008, aged 53, he decided to close his 3-star restaurant. Believing that he no longer has the necessary physical condition to be behind the stoves every day, he justifies his departure for personal reasons and the wish to start "a new life". Passionate about spices, he seeks the best quality, favoring organic crops and Fair trade."