Are you a youth-led small Civil Society Organization promoting sustainable production and consumption patterns to fight climate change?
We are looking for you!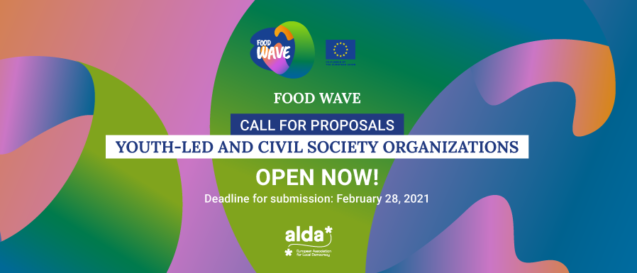 Lead the change and participate in our call for proposals with your project idea.
The Food Wave Project – co-funded by the EU under the Development Education and Awareness Raising Programme (DEAR) and promoted by the Municipality of Milan together with ActionAid Italia, ACRA, Mani Tese and 25 project partners in 17 countries, including ALDA – is launching its first call for proposals with the aim to finance 21 projects developed by small youth-led civil society organizations with a contribution up to 3000 euros.
What is the main objective of the call of proposal?
The project will support grass-root initiatives addressing climate-friendly food consumption behaviors developed by small youth organizations interested in the field but lacking the necessary means to do so.
Which is the thematic focus?
Each project needs to address the nexus between food and climate change!
Where can the project be implemented?
Activities must take place in one of the following EU Member States: Belgium, Bulgaria, Croatia, France, Germany, Greece, Hungary, Italy, Netherlands, Poland, Portugal, Romania, Slovenia, Spain, Sweden, UK.
Visit the Food Wave website to have more information about the call and how to apply!
The call will be open from January 25th to February 28th.
In order to learn more about the call requirements and hear some tips to improve your application, an online informative session will take place on February 10th! Stay up to date for further details!
Follow the FoodWave Facebook and Instagram pages to stay updated
#CatchTheWave and Lead the Change!
Sincerely,
Maurizio Mariani, Director of Eating City