Towards a shift of paradigm of our daily Food System: From Commodities to Common Goods
This second edition of the Eating City Summer Campus has been organised in August 12th – 19th 2014 and has involved 23 participants from countries of the Euro-Med area, aged from 23 to 29:
Alen Mujčinović, Bosnia and Herzegovina, student in quality management and sustainable development
Andrea Aimar, Italy, researcher involved in the project Food Hub TO Connect
Anja Plut, Slovenia, student in medical science
Bruna Skapin, Croatia, student in nutrition science
Boucherba Hocine Abdelatif, Algeria, student in health economics
Enio Civici, Albania, journalist
Kaltsatos Stefanos, Greece, student in territorial dynamics and rural development
Leyla Doss, Egypt, journalist
Luca Bossi, Italy, student in sociology
Lucia Lopez Marco, Spain, student in veterinary
Marco Callegari, Italy, food science and gastronomy
Marijn Bowmeester, The Netherlands, working in EU parliament
Marina Ilusca, Republic of Moldova, student in environmental sciences
Nadhir Boulbair, Algeria, student in food science
Riham Bargouthy, Palestine, student in comparative law, economic and finance
Ruben Matias, Portugal, chef and farmer
Soumaya Merhi, Lebanon, entrepreneur
Tamara Milas, Montenegro, student in law
Valentina Ciappina, Italy, video maker
Vasilev Ljupcho, Republic of Macedonia, agronomist
Three participants of the 2013 edition have been involved in the work-in-group process:
Judita Peterlin, Slovenia
Natalija Lekić, Serbia
Guus Thijssen, The Netherlands
Program of activities
During this edition, main thematics have been dedicated to food as a common good and also to the influence of the diversity of cultures and religions on food.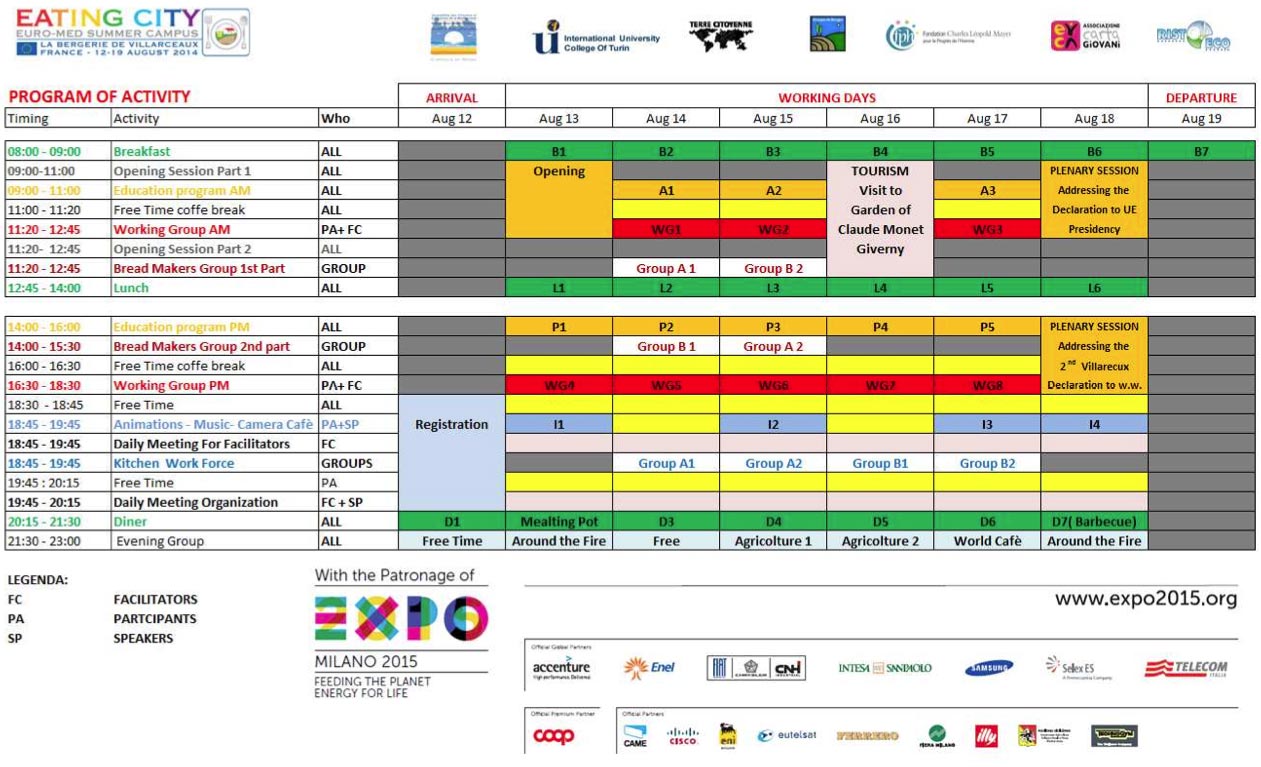 Agenda of The Campus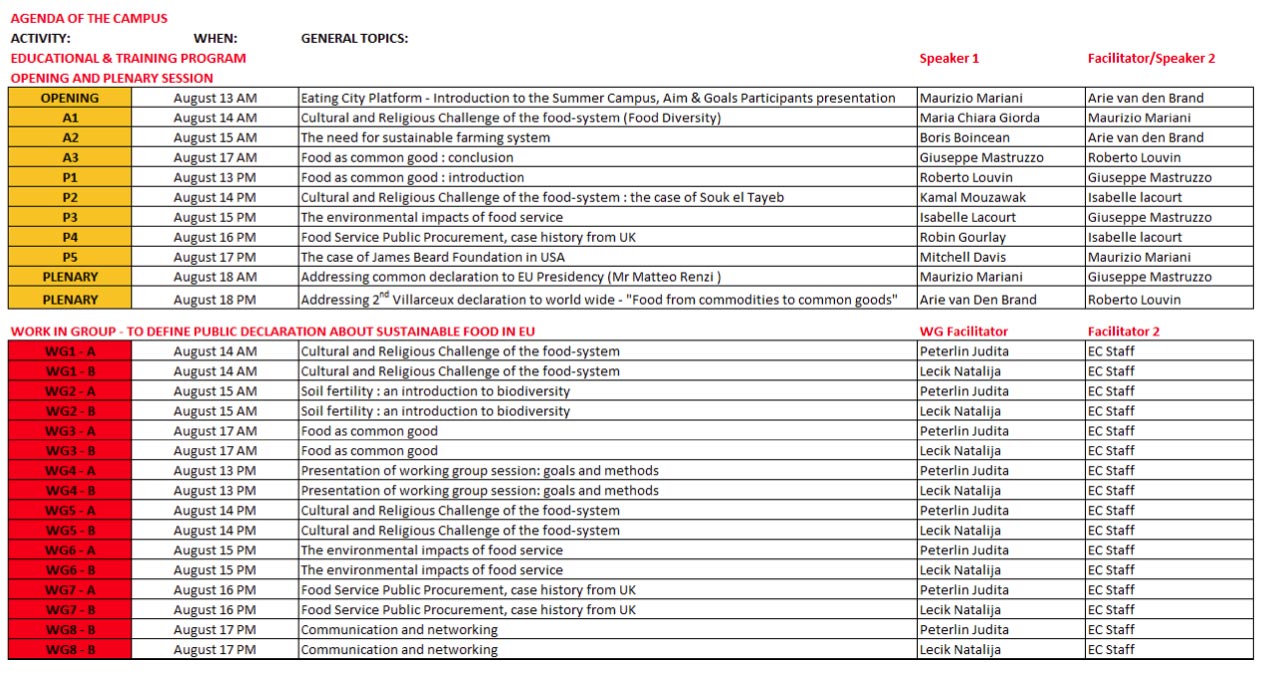 The Invited Speakers
The Summer Campus Venue
An inspiring oecocenter near Paris
The campus has taken place in the inspiring location of the Bergerie de Villarceaux Oecocenter, in the regional nature park of Vexin, at 70 km de Paris, in France, hold by the Charles Leopold Mayer Foundation (Fph), a main partner and Eating City supporter since the very beginning.
This estate's old farmhouse has recently been refurbished to bring it in line with environmental and sustainable standards, including the uses of natural insulation materials, wood heating, solar panels, rainwater collection, natural purification through lagooning, etc.
See more on bergerie-villarceaux.org
The diary of the second Eating City ummer Campus :